Our roofs are an important aspect of our homes. They protect us from the elements and keep us safe. But they can also be vulnerable to wear and damage, costing a fortune depending on the repair that is needed.
When roof hail damage comes into play, these costs can be high unless you go to the right place. Having a trustworthy source for repairing hail damage to your roof can make the entire process far easier and take the stress out of the process.
There are, however, a number of questions to ask yourself.
How Much Does It Cost to Repair Hail Damage to a Roof?
That all depends, of course, on the size of the dent. Smaller dents can run around $50 per dent on average while larger dents can run in the neighborhood of $80 per dent. It also depends on where on the roof the dents are. If they are in places that are more difficult to reach, the pricing can go up quite a bit.
Ultimately, it depends on just how many dents are in your roof. If there are only a few, your roof can be repaired for relatively cheap but if there is extensive damage, the costs can get to be a bit high. Consult your local repair services for more information.
Hail Damage to Shingles
While dents are certainly a hassle to deal with, hail can be even more troubling to roofs with shingles. Shingles with hail damage can experience curling or stress cracks over time and will age much faster than shingles that aren't damaged.
Roof hail damage is one thing, but if you have a shingled roof and have experienced hail damage, it is imperative that you contact a professional roofing company immediately as the damage can spread and intensify if left unattended or broken.
What Size Hail Will Damage a Roof?
When we think of hail, we think of sizable rock-like substances that fall from the sky and assume that they will cause extensive damage. This is not necessarily true. Pea-sized hail (1/4") and marble-sized (1/2") might not cause any damage.
It is when you start to get to the quarter sized hail (3/4"), then you can see some serious damage. If you see hail the size of a golf ball (1 ¾") or bigger, you can almost guarantee that there will be some damage, probably substantial in nature.
Is Hail Damage to Your Roof Covered by Insurance?
For the most part, hail damage is one of the most commonly covered items in homeowners insurance. Hail damage is among the most common claims to insurance in the country and requires you to take photos or a video of the damage before cleaning any of the damage up.
Double-check with your specific homeowners insurance to make sure that it is covered. It would be surprising if it is not but it is better to be safe than sorry.
Hail Damage Roof Insurance Claims
These can be a little tricky if there are any leaks. If there are leaks, some homeowner's insurance may not cover that. While they do cover hail damage to the roof, they may not include roof leaks in that coverage.
It is important to make sure that you are aware of this distinction. Assuming that the two go hand in hand can lead to a lot of trouble and expensive repairs if leaks are not covered under your homeowners insurance.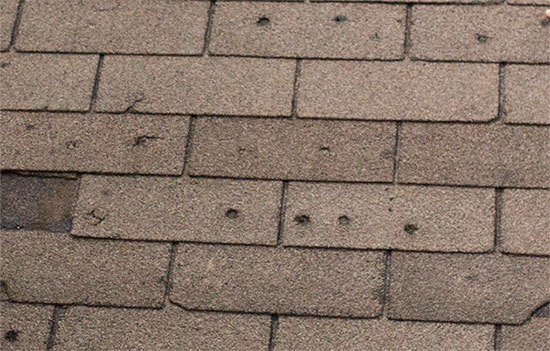 What Does Hail Damage Look Like on a Roof?
For those with metal roofs, you can rest easy knowing that metal roofs are a bit more impervious to hail damage. For instance, hail will not penetrate a metal roof. Not only that, metal roofs are made extremely tough and very resistant just for this reason. There may be light dings here and there but there should not be anything major. Hail damage to any sort of roof that is non-metal will likely look like pock marks or puncture holes in your roof. The fact is that the hail creates dents in the roof or shingles and can even cause cracks in the damaged shingles.
When checking for damage from hail on your asphalt roof, it will be very apparent the moment that you climb up. However, metal roof hail damage may be more difficult to spot. Ideally, there will be only a handful of spots that need repairing as extensive damage can be costly to repair.
How Do I Know If My Roof Has Hail Damage?
There really is only one way to check on any possible roof hail damage: get up on the ladder and check yourself. It is impossible to get a good view of the roof from the ground and you won't be able to properly assess the damage to your roof. Caution should always be exercised when getting up on a ladder, especially for higher up spots like your roof.
What Hail Damage Roof Repair Service Should I Consult?
Jagg Roofing specializes in roof repair, especially those that have been damaged by hail. Not only can they repair the roof, they can help to reinforce your home against future hail damage.
Contacting Jagg Roofing should be on your list of priorities if you have experienced roof damage or if you want to prepare for the worst.